Easily add custom fields to the Business Manager plugin.
Because Business Manager uses custom post types and other standard WordPress interfaces, managing custom fields is much the same as managing pages or posts.
Adding a new custom field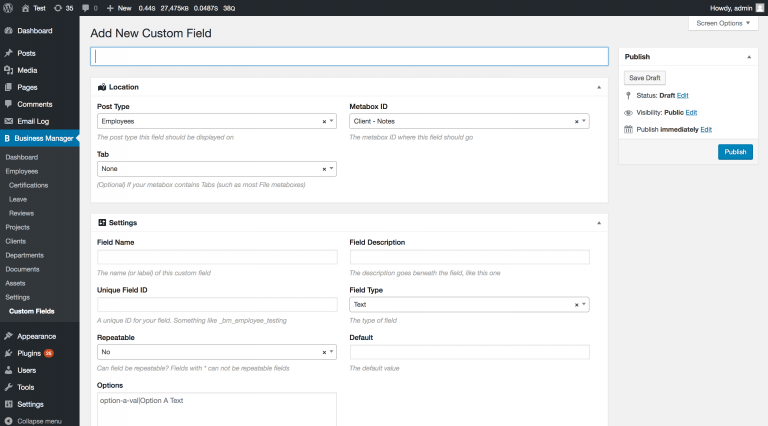 Navigate to Business Manager > Custom Fields (which appears in the Business Manager menu beneath Settings) and then click the 'New Custom Field' button.
There are 2 main sections (called Metaboxes) that need to be setup.
Location
Post Type – choose which post type the field will belong to such as Employee, Project etc.
Metabox ID – choose the metabox where this field should go. Metaboxes are simply the 'sections' that contain the fields.
Tab – If your chosen metabox has tabs, such as the Employee Details metabox which contains a Personal Tab & Employment Tab, you need to choose which tab the field will go in.
Settings
Field Name –
Field Description –
Unique Field ID –
Field Type –
Once you have filled in all of your fields, it is simply a matter of clicking the blue 'Publish' button